Aric Gibson
REALTOR® , Certified Listing Professional, Certificated Real Estate Negotiator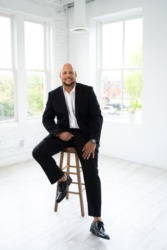 License Number:
2020009273
Aric J Gibson REALTOR®: Your Trusted Central Ohio Real Estate Advisor:
Step into the vibrant world of Central Ohio real estate, where unwavering principles, ethics, and an unwavering dedication to clients take center stage. I'm Aric J Gibson your dedicated REALTOR® who believes that strong faith and exemplary work ethic are the cornerstones of every successful real estate journey.
Putting Clients First:
At the heart of my real estate practice is an unwavering commitment to my clients. I work tirelessly, always putting your best interests first. Your satisfaction and success are my top priorities, and I'll go the extra mile to ensure your real estate goals are not just met, but exceeded.
Value Beyond Transactions:
My dedication to your real estate experience doesn't end at the closing table. I'm passionate about adding enduring value to every client's journey. Even after the transaction is complete, I'm here to assist, guide, and connect you with my extensive network of trusted contractors and vendors. Your investment remains my concern long after the deal is done.
A Network of Trust:
Over the years, I've nurtured a vast network of contractors and vendors known for their reliability and excellence. When you choose to work with me, you gain access to this network, ensuring you have the best resources at your fingertips for any home-related needs.
Caring and Dedicated:
I take pride in being hardworking and compassionate, and I treat each client as an individual, not just another transaction. Your dreams, goals, and concerns are important to me, and I'm here to provide personalized support throughout your real estate journey.
Your Trusted Real Estate Advisor:
In Central Ohio's ever-evolving real estate market, knowledge is power. I make it my mission to stay on top of market trends and insights so that you can make informed decisions. As your trusted real estate advisor, I'm here to guide you through every step of the process, ensuring your confidence and peace of mind.
Ready to explore the Central Ohio real estate landscape with a dedicated and knowledgeable professional by your side? Contact me today, and let's embark on this exciting journey together.
Testimonials
We used Aric on both the buy of our new home and the sale of our previous home. We bought before we sold, or even had our home on the market, so time was of the essence. Aric not only got our house listed quickly, he showcased our home beautifully and went above and beyond our expectations. We were in contract in under 2 weeks with closing shortly thereafter. Aric was able to get us top dollar for our home despite the rapidly rising (and record setting) interest rate environment. He is extremely knowledgeable, patient, and diligent. He worked tirelessly with other agents as well as fielded our many questions with integrity, professionalism, and urgency. Aric was absolutely the best part of the whole buying and selling process. What could have been an extremely stressful period was so much less so because of him. Thank you, Aric! We could not be happier!!
Jennafer Pitstick
From start to finish Aric was professional, knowledgeable, patient, and available. No matter how many houses we wanted to look at, he was ready with all the details of the property. Also, no matter what other services we needed, Aric provided a referral, recommendation, or made the connection for us. If I could give Aric 100 stars, I would!
Alicia Wiggins
Aric helped us navigate the process of purchasing a commercial/ residential building. His expertise gave us the confidence to move forward and was prompt with a response and guidance when we had questions. I highly recommend using him in your real estate needs. 10/10, thanks Aric!
Alex Emrich
Where do I start!!! Aric is so professional, patient, friendly, thoughtful, and he truly wants the best for his clients, he doesn't just want to make the sale. He took the time to show us many houses and on top of that he would give us his honest opinion about them. We're are so happy that we found our perfect home and we wouldn't have done it without him. I 100% recommend his services or anyone's at New Directions Realty, I know for a fact Aric will walk you in every step of the way and help you with any needs or questions you may have. Aric again, thank you so much for helping us in making our dream come true!!
Julissa C
Aric Gibson is a real pro. Aric demonstrated a patient yet persistent attitude to work out details while bumps in the road that stretched out the closing beyond our control we're encountered. Aric continued to monitor the situation during his busy schedule and passed on his assurance and confidence that all is well that ends well, and PTL, we closed!! Aric knows the real estate process and can handle challenges successfully in my opinion. Give Aric a call if you have questions about selling or buying.
Randy E
More Testimonials